Online learning has grown significantly over the last decade, providing more people with a platform to learn new skills. Indeed, COVID-19 has had a major impact on the way we learn. Nearly 120 countries have since stopped teaching face-to-face and the pandemic has affected the schooling of nearly a billion students around the world. Online learning is now part of the pandemic lifestyle and has forced most academic institutions and businesses to operate remotely.
Today, online learning is facilitated with a wide variety of tools and LMS hosting solutions. Udemy, Coursera, LinkedIn Learning, Skillshare, and Udacity are just a few examples of online learning sites that support millions of people. Different consumer verticals influence the platforms, too. Skillshare, for example, caters to creatives by offering courses in animation, photography, and lifestyle, while Coursera caters to academics by providing access to university courses.
Even before the pandemic, the majority of higher education institutions offered elearning through Learning Management Systems (LMS). However, LMS integration has since moved from a secondary consideration to the primary form of teaching, which has been challenging. Even LMS hosting providers have had to revamp their systems to match the overbearing load of new users.
How many students were affected by Covid?
This article reports that as of March 23, 2020, around 1.3 billion learners around the world were not able to attend school or university due to the COVID-19 pandemic. UNESCO's latest figures show that 80% of the world's learners, or 1,379,344,914 students, are now being kept out of educational institutions by country-wide closures. The pandemic is having a devastating impact on global education, and 138 governments have ordered country-wide closures of their schools and universities.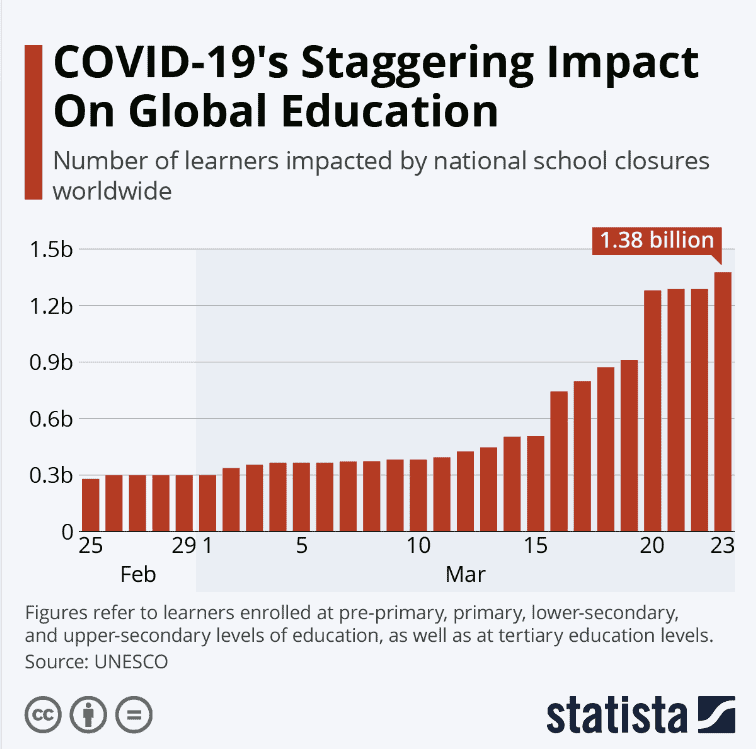 Is learning online as effective as learning offline?
There is proof that learning online can be more successful for those who have access to the right technologies. According to some studies, students who study online retain 25-60% more content than those who learn in a classroom, who in comparison retain just 8-10%. This is mostly due to students' ability to learn more quickly online. Elearning consumes 40-60% less time than traditional classroom learning because students can learn at their own speed.
The efficacy of online learning, however, varies by age group. Children, particularly younger ones, need a structured atmosphere since they are more easily swayed by distractions.
A concerted effort is needed to provide this structure for young students. Educators should go beyond replicating a physical class visually, using a range of collaborative tools and engagement methods to promote inclusion, personalisation, and knowledge building.
When it comes to heightening engagement among younger age groups, it's important to bring gamification to the learning process. When we incorporate all the senses and inject an element of fun into children's education – via well-designed games and activities – they will be more engaged and incentivised to learn in general.
The challenges of online learning
Online learning also has disadvantages. For one, online learning is reliant on technology, and interruptions or other system failures can occur during classes.
Students who do not have affordable internet access or technology find it difficult to engage in digital learning; this divide exists across countries and income brackets within countries. According to OECD results, 95% of students in Switzerland, Norway, and Austria have access to a computer for schoolwork. However, only 34% of students in Indonesia have the same access.
Students may also have difficulty planning how they study, which leads to a loss of motivation. A lack of physical contact and the involvement of peers can make students feel alone.
The best way forward 
Even though many colleges used online learning as a supplement before the pandemic, the majority were not prepared for a complete online experience.
If educators want to continue providing quality education, the online learning process must be optimised. This optimisation should include:
As much student-teacher interaction as possible.
The language used in student-teacher communication needs to be accessible.
Courses should be streamlined effectively, and the LMS should be easy to navigate and attractive to the eye.
Even after the pandemic subsides, online learning will remain an integral component of the individual learning experience. Once you have all the right elements in place, your programs can be every bit as engaging as the old-fashioned way!
If you would like to discuss how Pukunui can help you improve your online learning provision, contact us today.