Monash University Malaysia (MUM) was established in 1998. It is the third-largest campus worldwide of Australia's largest university, and the first foreign university campus in Malaysia with approximately 8000 students and 1200 lecturers altogether. Monash University Malaysia is a self-accrediting university and headstrong in the education industry with multiple schools available, including the School of Business, School of Engineering and School of Information Technology. Like all educational institutions, Monash picked Moodle to use as their primary LMS platform, Monash Moodle.
Challenge
Monash University Malaysia have been using Moodle for quite some time now to support their teaching and learning. With the help of the LMS, they were able to increase student engagement. Content and materials can be accessed by their students no matter where or when, as long as they have an internet connection.
We know that Moodle development is vast, and there are new features every time there is Moodle version upgrade. This was when the department of Education Excellence, Monash University Malaysia, approached Pukunui Malaysia to help them.
After discussion between Pukunui Malaysia and Monash University Malaysia, we identified areas to focus training on for their staff and academics. Their academics are primarily new joiners with zero LMS experience, so their main aim was to introduce Monash Moodle and get their users confident with the platform.
Solution for Monash Moodle
Working with the Department of Education Excellence, Pukunui Malaysia offered a selection of training sessions to prepare staff and academics. From there topics were finalised, and tailored to match the needs of their staff and academics. The areas covered were;
Administrator and Support Training
Administrative Tools
Moodle Block
Unit settings, Start Date, End Date
Backup, Restore, Import
Enrolments and roles
Logs
Filters and outcomes
Activity and Resources
Activities and resources to be used in Monash Moodle
Groups & Grouping
Creating Groups
Grouping
Managing import / export group
Assessments
Advanced grading (rubrics)
Turnitin
Gradebook
Setting up & Organise
Import / export grades
Grader report
Creating & Managing Forums
Types of forums
How it can be used in Monash Moodle
Completion Progress
To setup completion and track the progress
Introduction to Moodle
Basic functions and features of Moodle
Adding activities and resources
Activity and Resource types
Organising Moodle sites
How to add, delete, move, hide content and areas in Moodle
Groups and groupings
How to set up groups and groupings
How to set up self-selection activity
How to use and manage forums
Types of forums
How they can be used in Monash Moodle
Setting up gradebook
Setting up & Organising
Import / export of grades
Grader report
Setting up assessments
Creating an assignment submission box
Creating a Quiz
Turnitin
Group submissions
Advanced grading
Rubric creation and marking
Marking workflow
Access restrictions
Using access restrictions to provide structured / differentiated learning pathways
H5P interactive video
About H5P
Creating and editing H5P Content
Adding an H5P activity to a course
Embedding H5P into other activities
Initially, all the sessions were set up as online training due to the Covid-19 restrictions. Three sessions were conducted online, and the first face-to-face training was on 14th June 2022. For me, it was great to run a face-to-face session after two years of online training sessions!
At the time of posting this, the training sessions for Monash Moodle is still ongoing. I'm really looking forward to the next training sessions – Introduction to Moodle Training and H5P Training.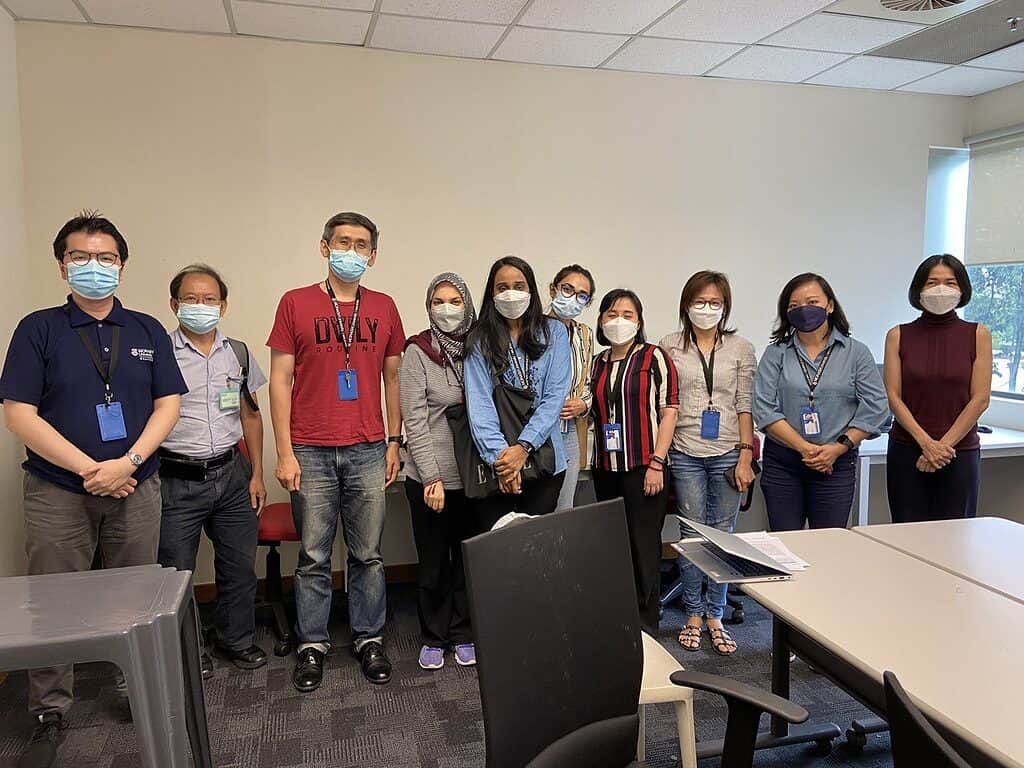 If you would like us to provide similar sessions for you, your staff, university or company, please get in touch.