Earlier this year, Moodle launched the latest iteration of their popular Moodle course – Learn Moodle 3.8 Basics, in conjunction with the deployment of version 3.8 last November.
Learn Moodle 3.8 Basics is for anyone who wants to use the Moodle learning platform for teaching, whether in a school, a university, a company or just personal interest. In this 4 week MOOC, learners will explore the different functionalities in Moodle and also create their own quizzes, assignments, and many more.

Mary Cooch
Learn Moodle 3.8 Basics is a real benefit to educators. It is aimed at anyone who uses a Moodle course as their online learning platform for teaching, evaluating students' assessment, and more. In this four week course, learners explore many features in Moodle and have the chance to create a practice course of their own.
In this blog post we take a look at the course in more detail, and discover more about Learn Moodle 3.8 Basics.
This round, they divided the course into weeks, where the topics are as follow;
Getting Started with Moodle (13-19 Jan)
Getting Involved (20 – 26 Jan)
Making the Grade (27 Jan – 2 Feb)
Taking it Further (3 – 9 Feb)
Getting Started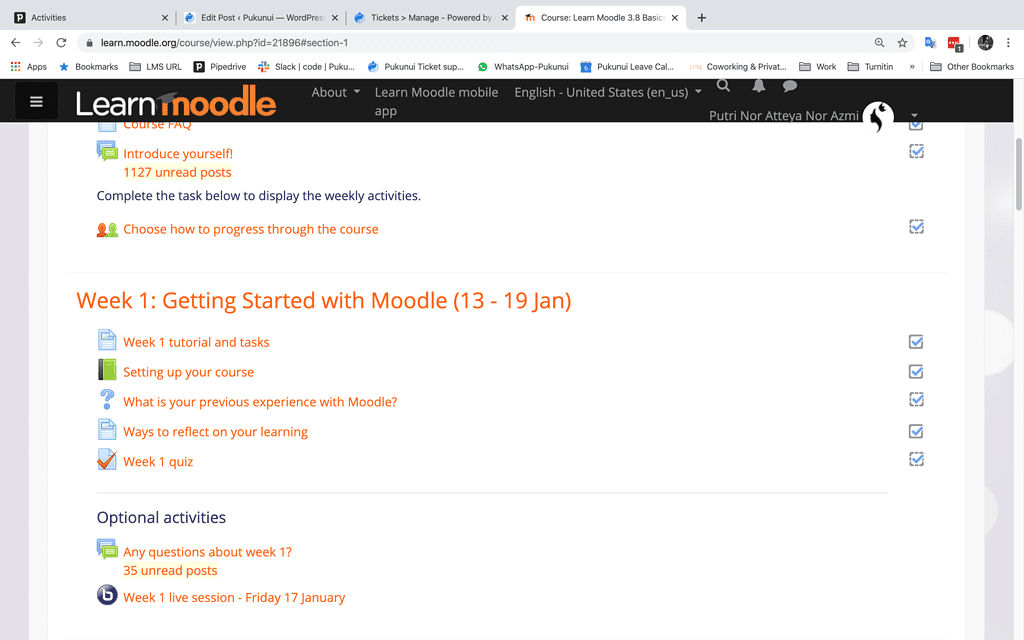 I started my 1st week planning how to set up my own course. It's quite important to start planning your content and your page layout, by dragging and dropping the documents.
Moodle encourages all the participants around the world to take part in a forum they have created, to introduce yourself and make a connections with people form various backgrounds. From my personal experience, I thought it would be hard to start a conversation with a stranger, or with someone who I didn't talk face to face. But in fact, it is the opposite. I found it easy to initiate the conversation, and I engaged with almost 50 participants around the world! It's great to see different opinions, and variety of knowledge from each and every one of them.
Getting Involved
Week 2 included a variety of different tasks and tutorials. In this week, Moodle introduced the activities and resources. For an example books, forums, surveys, filters, wikis, labels and many more. The instructor guides you, and explained in what scenarios you to use the various modules in your course.
During that week you request a practise course, in order to start customising and planning the content that you want to put inside it. Then you can start to create and arrange those activities and resources.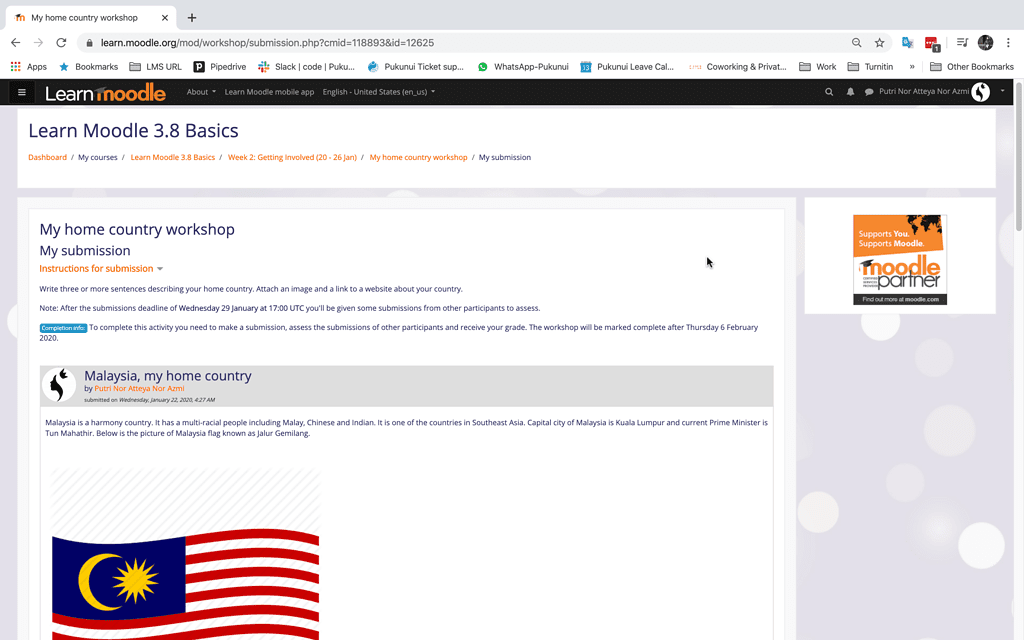 The next requirement was to find a topic, and put information into your course. This included thinking about mapping the course's layout and making the course as interesting as possible. We made it informative, yet also attractive so that other people would visit our courses.
Making The Grade
This week, Moodle showed us all about assessing and evaluating the students' work. This included understanding more about the Moodle gradebook. The Moodle gradebook is the place where all the marks awarded are stored, such as marks from Assignments and Quizzes.
Another activity we completed that looked simple yet fun, is the Moodle Database activity. We submitted one recipe to the Moodle database. Can you guys guess what recipe I chose to submit? Definitely a "Nasi Lemak", the Malaysian traditional dish. I believe, no one can resist nasi lemak as their breakfast dish every morning!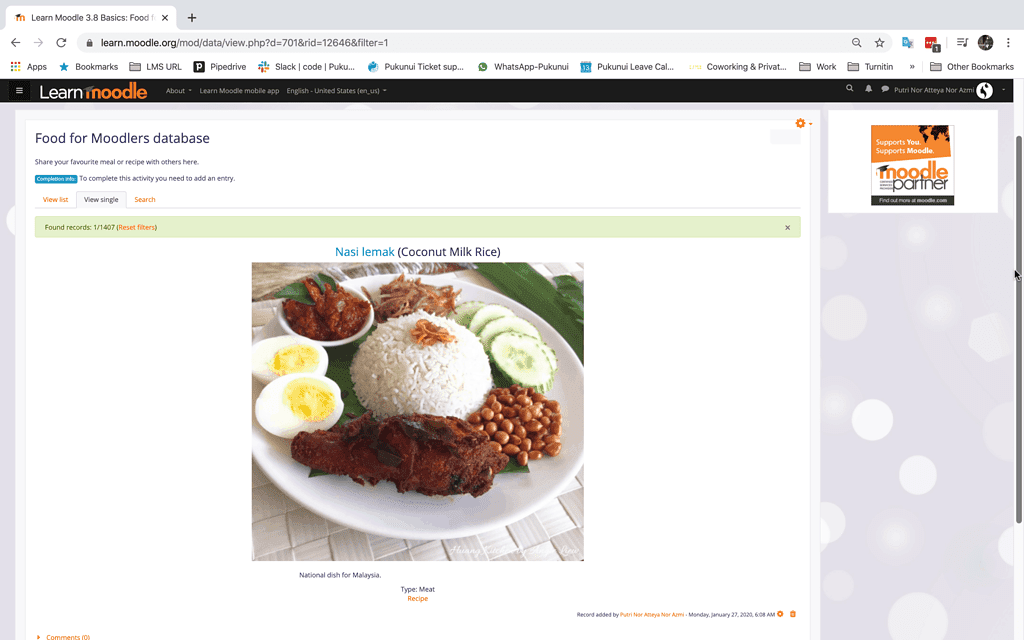 Taking it Further
We have come to the final week for the course. Here, there was an evaluation for each participant, to test their knowledge about Moodle 3.8. For this, Moodle set up a Final Summative Quiz. Each participant could only attempt the quiz once. A piece of advice, be prepared!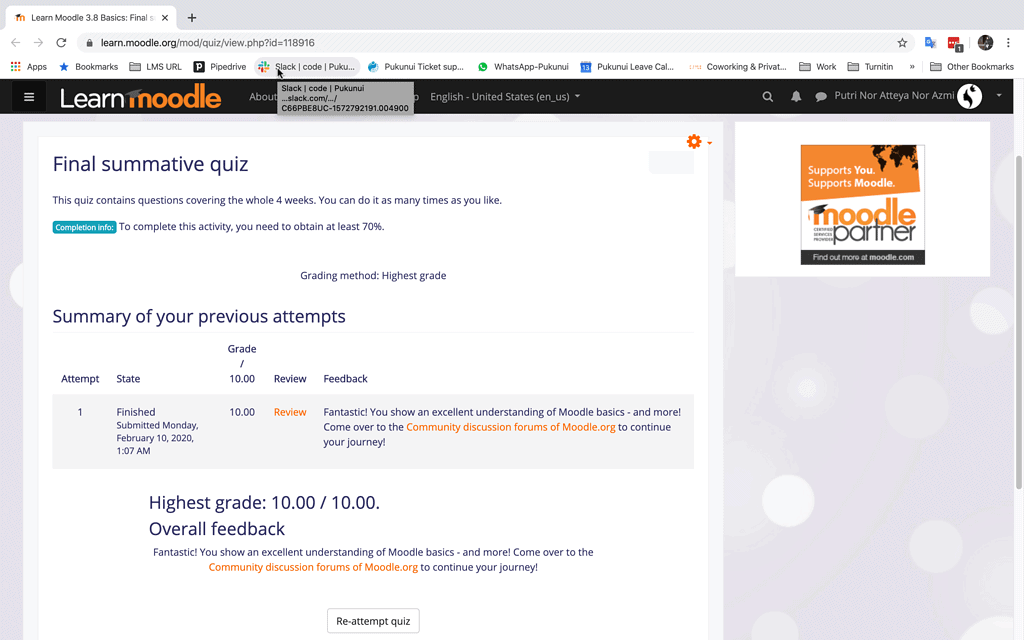 Next, after four weeks participating in this Learn Moodle 3.8 Basic MOOC, you will be given a certificate! If you completed all 32 activities, you will be awarded with the Certification of Completion. However, if you skip one or two activities, you are awarded with a Certification of Participation.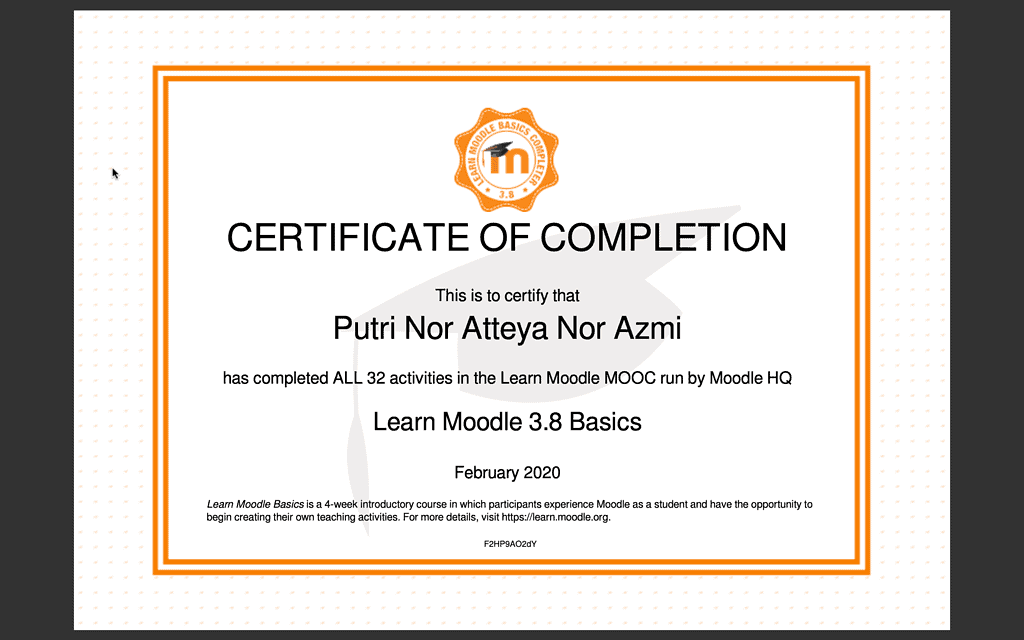 Overall, it was a great introduction to the software and I really recommend the moodle course to anyone starting off with the software, or looking to enhance their Moodle skills.
Moodle are offering the same course to everyone later this year. The next cycle will be starting on 8th June 2020. For more information, you can visit the Learn Moodle Basics 3.8 site. Sign up will be available from May 2020. Mark your calendar folks!
Upcoming Moodle Course – Learn Moodle Admin
And finally, if you can't wait until June, there is a new course starting!
I am planning to attend the next course Moodle.org are offering, which is Learn Moodle Admin. Sign up opens on February 17 2020. I can't wait for the next course. Can you?
Similarly, if you are searching for personalised LMS training, you can contact us anytime, or take a look at the LMS training courses that we offer.