Lecturers, teachers and instructional designers who want to improve the learning experiences of their students, should take a look at using H5P activities within their Moodle site.
H5P is an open source project which allows you to create interactive, responsive, HTML5 learning activities.
Interactive content, H5P and Moodle
H5P allows you to create highly interactive content for your Moodle site. I'm a huge fan of the core Moodle tools. Nearly all the time I recommend using the standard activities within Moodle over third party plugins. The advantage of this, is that the solution is future proof. Using the core tools, any activities you create will be supported in future versions of the software. As a result, you will be able to keep your Moodle site version up-to-date.
However, there is enough traction and interest now in H5P to warrant exploring its use as a learning tool within Moodle. As always with third party plugins and integrations there is no guarantee that the plugin will always be supported. For the content to display in your site, you will need this plugin. Ultimately, you or your site admin would need to assess the risk / reward but at this point in time I think it's worth it.
How does it work?
Part one – create the content.
Create the learning activity on https://h5p.org/
After that, download it.
Part two – add it to your Moodle site.
Download and install the Moodle H5P plugin.
Then use the Moodle plugin to add the downloaded H5P file as an activity to your site – instructions here.
Alternatively, you can create the learning activity directly within the Moodle plugin.
So what can you do with H5P?
H5P offers several types of interactive content you can use in a Moodle course. These include Interactive Video, Arithmetic Quiz, Course Presentation, Dialog Cards, Guess the Answer and Timeline among others. The screenshot below shows most of the activity types.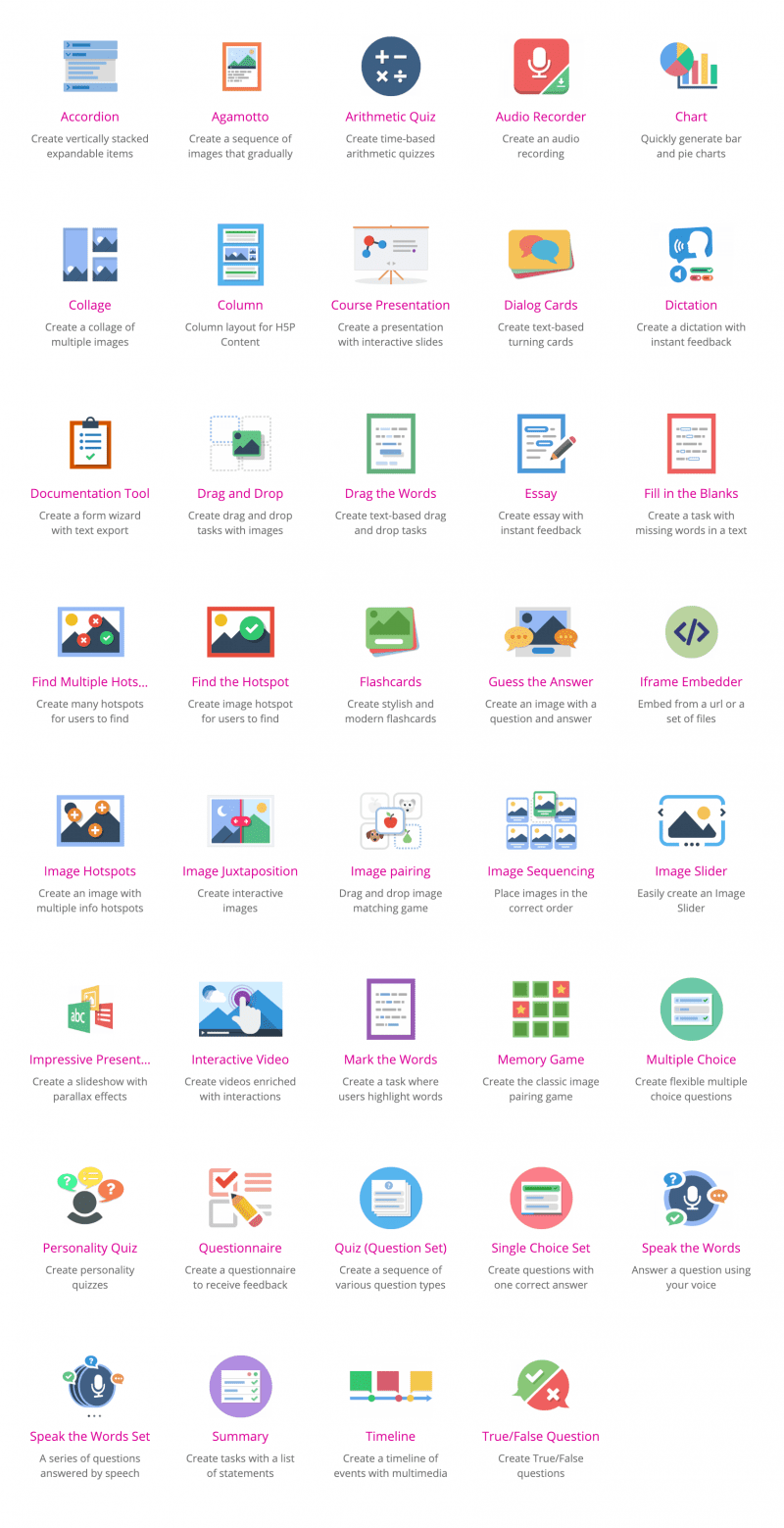 Check out some examples here https://h5p.org/content-types-and-applications
Most importantly, teachers and trainers might be interested in Image Juxtaposition and Timeline.
What are the benefits of using H5P and Moodle?
First, H5P is not only completely free but also open-source technology. Being an open-source program allows users and contributors from around the world to upgrade it constantly and add new features.
Secondly, it is highly intuitive. With it, lecturers and teachers don't need any skills in Java or HTML to create interactive content on their e-learning websites.
Lastly, the content created with H5P is compatible across different platforms, Moodle, Drupal and WordPress. Moreover, the content looks stunning on all devices.
H5P is a great way to add interactive learning tasks to your VLE, in addition, or to complement all of the awesome core Moodle features.
To install and get started with H5P and Moodle you can follow this guide. If you are a hosted Pukunui client – just shoot us an email asking for the plug-in to be installed or contact us to ask for help. While you are here, you might be interested in our Most Popular Moodle Plugins of 2018 post.